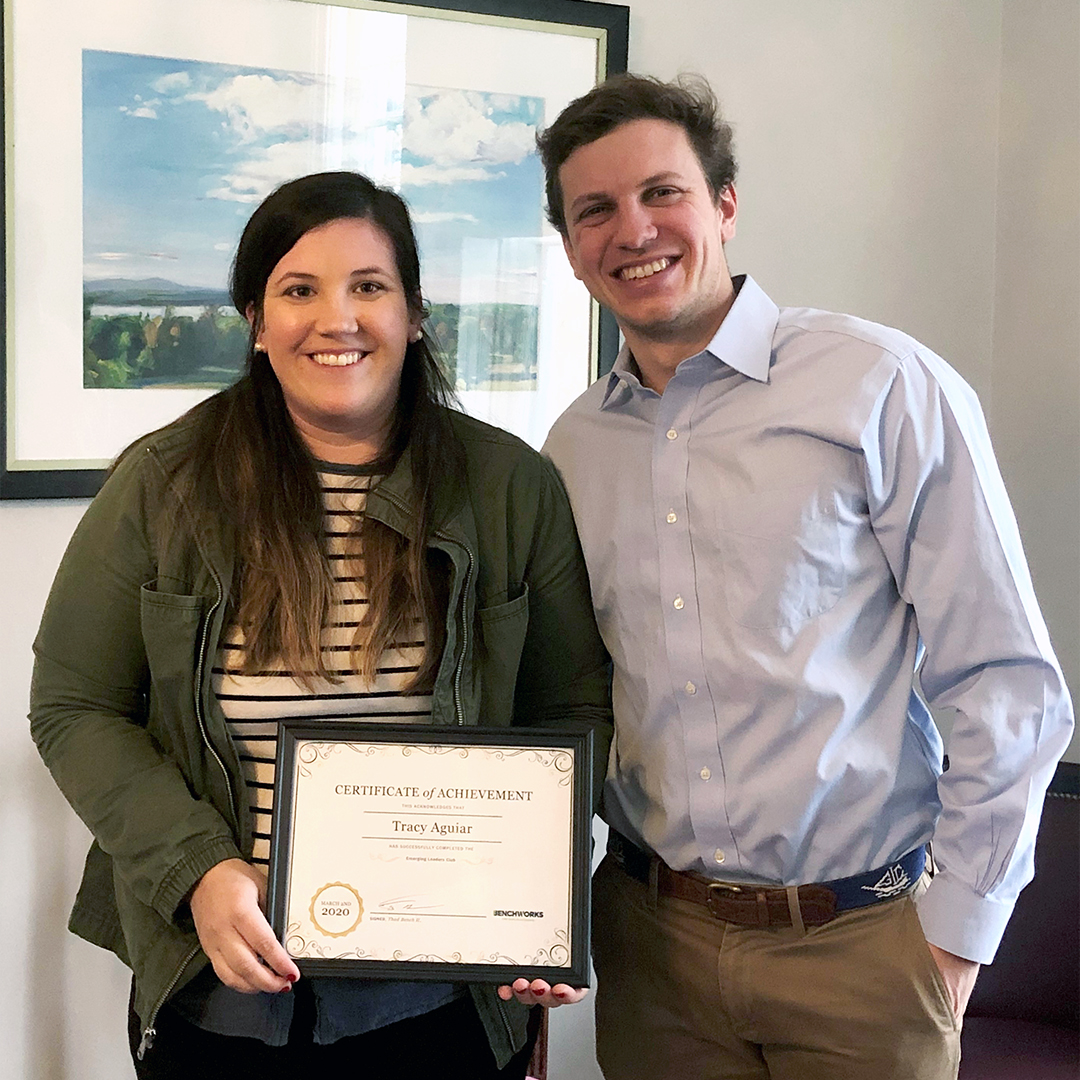 Congratulations to the first graduate of our Emerging Leaders Club
Some people are born leaders. We all know at least one. For the rest of us, leadership is learned behavior.
But first you have to want it. And then you need opportunities to learn and develop it. Because leadership is a choice—we can all lead in some way.
In the workplace, it's crucial to foster leadership qualities in your staff. That way, when you need someone to step up to fill a role, you've got people with the abilities needed to succeed—whether that's running a committee meeting or running a department. Also, and maybe more importantly, nurturing employees is always a good investment.
At Benchworks, we have a long tradition of informal mentoring for junior members of our team. We've done this with an eye to grooming them for future roles as well as ensuring they are meeting their personal career goals.
As Benchworks continues to grow, however, we have come to realize we need to do more. So, in 2019, Benchworks launched the Emerging Leaders Club. The program gives employees a chance to take a deeper dive into a variety of agency-related topics in a way that hectic workdays filled with pressing deadlines makes difficult. And, because these sessions are led by our senior leaders, it gives participants face time with the most seasoned members of our team.
We encouraged all employees to apply by submitting a short essay explaining why they wanted to participate. Tracy Aguiar, account executive with the Pfizer and EMD Serono teams, was chosen to be part of the inaugural class.
Throughout 2019 and into 2020, Tracy met one-on-one with various members of senior leadership and key departments to discuss topics that ranged from agency finances to philosophical approaches to work. Sometimes there was pre-homework, such as a video to watch or a book to read.
"The program exposed me to so many different aspects of agency work, giving me the opportunity to learn about things that aren't necessarily part of my regular day-to-day routines," said Tracy. "Plus, the small group nature of the program allowed me to ask tons of questions."
In keeping with Benchworks' culture, sessions are conversation driven and have a strong mentoring component. We worked to create space in our work lives for the type of reflective thinking and feedback that helps people grow. Everyone is encouraged to talk candidly and share their experiences.
The program culminated in a graduation ceremony and celebration on March 2 in the Chestertown, Maryland, office.
"It's been a really cool learning experience," said Tracy. "It's definitely helped me become a better account executive."
Tracy will receive a scholarship toward an accredited certificate or continuing education class.
"Tracy is a smart, motivated member of the Benchworks team, and it was a delight to get to know her in a different context," said Thad Bench, CEO, BW Health Group, the parent company of Benchworks. "I think leadership gained as much from the experience as she learned from us. I look forward to working with the next group of young leaders."