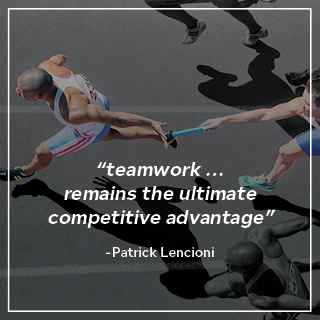 Finding the greatness in great teams
"Teamwork … remains the ultimate competitive advantage" -Patrick Lencioni
Most business books will tell you that building a strong team requires finding potential employees whose experience, motivation, and energy align with your organization's vision. The goal: making a good match.
I've been spending a lot of time considering how we can best attract the right candidates for our organization, which is growing rapidly and across multiple disciplines. One resource that I've enjoyed is "The Ideal Team Player" by Patrick Lencioni. I was drawn to the book because teamwork, both internally and client facing, is something our organization values highly. Patrick argues that it's important to find individuals who possess three core virtues: humility, hunger, and people smarts. It's an argument that resonates with me.
Lencioni describes humility as the most important of the three. Great team players lack excessive ego or concerns about status. They are quick to point out the contribution of others and less motivated to seek attention for their own. They share credit, emphasize team over self, and define success collectively rather than individually.
Hungry people are always looking for more. More things to do. More to learn. More responsibility. Because they are self-motivated and diligent, hungry people almost never have to be pushed by a manager to work harder. They are constantly thinking about the next step and the next opportunity.
Smart isn't always defined solely based on intellectual capacity. It has everything to do with the ability to be interpersonally appropriate and aware. Smart people tend to know what is happening in a group situation and know how to deal with others effectively. They ask good questions, listen to what others are saying, and stay intently engaged in conversations. Smart people have good judgment and intuition around the subtleties of group dynamics and the impact of their words and actions.
If even one trait is missing in a team member, teamwork becomes significantly more difficult—and sometimes not possible at all. Individually humble, hungry, and smart aren't particularly noteworthy. But the combination of all three is powerful and unique., and something to be prioritized when searching for the best candidates.
Learn more about BW Health Group at www.bwhealthgroup.com. View our open positions at www.benchworks.com/careers.